Moving Forward
Prelude:
The pandemic and the economic chaos that continues to follow have been challenging times for most all businesses, especially startups, and LLB dba Waterblocks was no exception. The economic shutdowns and logistics challenges made it impossible to accomplish the sales and manufacturing goals we had set for ourselves. However, as we fought our way through the last 24 months, we did make significant progress on the things we could control, including our long-term vision for the company.
 Today, we would like to provide you, our shareholders, with a number of important updates in order to give you a clearer picture of where we have been and where we intend to go. As you read these updates, I ask you to please keep in mind that as a Securities and Exchange Commission ("SEC") reporting company, Waterblocks is required to comply with all applicable disclosure regulations, and therefore we are not at liberty to discuss or make certain forward-looking public statements.
RECAP:
Our March 2020 product launch at the Conexpo show in Vegas was shut down after 3 days by Covid, and our display booth and product prototypes were locked in a local warehouse until late September. Our 2020 ongoing Texas pilot flood project development efforts and expenses were thwarted and lost as government officials were suddenly working from home and unreachable. Meetings and presentation appointments were repeatedly canceled. As 2021 arrived, Covid became the only issue government officials wished to discuss. After three months of repeated trips to Texas, we abandoned Texas and began pursuing a Pilot Project in Florida.
In early 2021, one of our shareholders in Florida, who had served numerous terms in the State Legislature, joined our team as Southeast Regional Director. Together we made every effort to pursue a Florida flood mitigation pilot project. This involved aggregating several small flood-plain municipalities together to submit a WaterBlocks flood pilot project grant request to the State of Florida. We wrote and submitted the grant application to the State of Florida on their behalf. The State of Florida chose not to fund the grant request for insufficient population density and Covid-related priorities.
While the foregoing was happening, a Danish flood mitigation products manufacturer approached WaterBlocks to discuss the possibility of merging the 2 companies. We worked on this diligently from July until November of 2021. When we received their current financials, their outstanding debt was far greater than what we wished to take on, and there were significant net revenue losses, so the merger discussions were terminated. Due to SEC rules, we refrained from making any public announcements in connection therewith.
We were also approached by a Chinese firm to market their flood control products in the US. However, due to the escalating container shipping costs along with a potential patent infringement issue in the US, it was determined we could not economically proceed forward. We may revisit this concept in the future.
We also approached several Chinese manufacturing firms to explore the possibility of producing molds and our product in China. However, due to prohibitive shipping costs, this was found not to be feasible. As we continue to pursue our flood barrier manufacturing efforts, we may revisit this option in the future.
We completed the initial design phase of a smaller flood protection product for consumers which can mitigate moderate flooding events (up to 30" of water flow). This will be a much lower-cost product than our heavy-duty WaterBlocks themselves. It awaits the production of a mold and an initial test production for further study and refinement.
In November 2021, we contracted with Mr. Darren Ong, a Singaporean resident to represent WaterBlocks in Singapore and all of Southeast Asia. Mr. Ong determined later that in order to qualify as a flood mediation technology vendor with the local government(s), we would need to have a subsidiary, a local Singaporean business entity, to qualify and participate in their pursuit of new flood mitigation technology. (see more about Asia below)
We also contracted with Colonial Stock Transfer Company ( Colonial Website  ). They are now our corporate registrar and stock transfer agent, managing our equity records and related duties for the security and benefit of our 1400 shareholders.
We also completed the process to become a registered and approved vendor of the US government.
At the end of 2021, we concluded the cost of High-Density Polyethylene (the material we use for WaterBlocks) was skyrocketing along with worldwide supply chain shortages. Furthermore, it was placed on severe allocation delivery schedules such that the spot market varied in cost substantially making an ongoing production cost schedule untenable if not ridiculous. This spot price variance is still true today but is moderating, and when new product production economics make sense, we will take action accordingly to move forward.
In mid-January 2022, we determined the time had come to bring to life the Disaster Support Network Corporation (DSN) as a stand-alone corporation to house the barrier-sharing network concept but with a significantly expanded vision. DSN is now on the web at www.Disaster.Support and website construction is about to begin (more about DSN below).
In February, we received a call from a WaterBlocks shareholder in the Netherlands, Mr. Lawrence Latham, CEO of Everynet.com. Everynet is a leading Low Power Wide Area (LPWA) technology pioneer and network operator with deployments around the globe including the Americas, EMEA, and APAC. In green-field geographies, Everynet builds and operates neutral- host shared infrastructure to enable MNOs and enterprises to rapidly enter the IoT market using its Low Cost Wide Area™ as a global low band web data carrier.
After investing in Waterblocks, Mr. Latham became very interested in our products and the Barrier Sharing Network, so he gave us a call. Mr. Latham explained that effective December 31, 2022, he would be returning from living overseas to his home in the US and expressed an interest in joining our Waterblocks team. ( Lawrence Latham Resume )
We accepted Mr. Latham's offer to join the Waterblocks team, and as of January 1, 2023, he will become the Vice-Chairman of our Board of Directors and co-CEO.
Since that time, Mr. Latham and I have worked together closely in order to expand our business vision and future plans. His efforts, participation, and results have been extraordinary, as noted herein. We have been extremely impressed by Mr. Latham's experience, leadership efforts, and results, and we are thrilled to have him come on board our leadership team.
Mr. Latham's participation has provided incredible momentum to the Waterblocks business development efforts and so with our gratitude and appreciation, we acknowledge and credit him with the following shared successes we have achieved together:
Latham's input aided and assisted our leadership team in the development of a new corporate structure to expand the vision and scope of our business and branding efforts to fully encompass and include all aspects related to protecting our planet. A few months ago, Mr. Ong, our Waterblocks Southeast Asia agent, together with Mr. Latham and one of our largest investors located in Singapore, joined forces to create "WaterBlocks Asia," a stand-alone WaterBlocks branded Singapore Company and subsidiary which was completed in mid-November 2022. This company is now qualified as a flood mediation technology vendor with the local governments.
During the Waterblocks Asia creation process, in conjunction with our Singapore team and investors in Indonesia, Mr. Latham helped us to broaden the entire disaster support concept of the original Waterblocks and DSN to develop a bold new vision for a new, larger company, the Planet Protection Corporation (PPC). PPC will be entirely focused on climate change-related technology and solutions to support disaster mitigation and recovery of climate change-related events.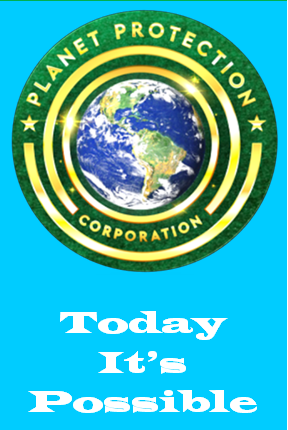 In connection with the creation of PPC, Mr. Latham arranged for PPC to become a licensed Everynet Data Carrier and Reseller throughout the USA and Singapore, with the option to expand globally over time. Everynet is on the web at: Everynet Website
Most recently, Mr. Latham traveled to Germany and arranged for DSN to obtain a marketing license throughout the USA, Indonesia, and Singapore for an innovative new product called Dryad ( Dryad Website ) from Germany.  An early detection Wildfire Alarm System (info link Wildfire Alarm 1-pager), which utilizes Everynet's data carrier services as needed for the wildfire alarms to communicate on a global scale.
Latest Breaking News
Latham recently helped us make our first sale of 1,000 DSN Wildfire Alarm sensors to a multi-billion dollar company; this sale is currently in progress. The initial manufacturing production run was launched in November 2022 and has resulted in increasing our PO by an additional 4,000 Wildfire Alarm sensors due to limited product allocation schedules.
Latham is also leading our current efforts to conclude a partnership effort with another multi-billion dollar global enterprise, in order to include their flood sensor products and provide multiple necessary and related services in concert with the DSN Wildfire Alarm systems, on a long-term, turnkey basis.
On December 7, 2022, WaterBlocks Asia received notice from the Indonesian Government that it has begun the process of physically moving the country's Capitol in Jakarta to higher ground, a nearby vacant island, due to problems caused by climate change. Due to Mr. Latham's extensive business relationships in Indonesia, our team was invited to submit a proposal for the sale of our products and services to the Indonesian Government in furtherance of their tremendous Capital City relocation project. The creation and construction of a new "smart" city, Nusantara Presentation, is an incredibly massive undertaking, and we are thrilled to have an opportunity to be a part of the process, potentially until its estimated completion in 2045.
THE BIG QUESTION NOW:
How do we put this all together into a manageable business structure?
Planning Goals:
Expand our scope of business to include any additional beneficial opportunities related to the protection of our planet,
Protect our Waterblocks stakeholders, our intellectual property, our intangible assets, and our branding and momentum,
Consolidate and multitask leadership and management at the onset as much as possible,
Minimize capitalization requirements; by the entity, rather than through a larger effort in a single entity,
Simplify administration as much as possible, and
Begin Revenue Generation
Execution Steps:
PPC will acquire:
WaterBlocks Asia ,
Disaster Support Network Corporation (DSN),
Locking Line Barriers Corporation dba WaterBlocks (LLB)
Business Organization Model: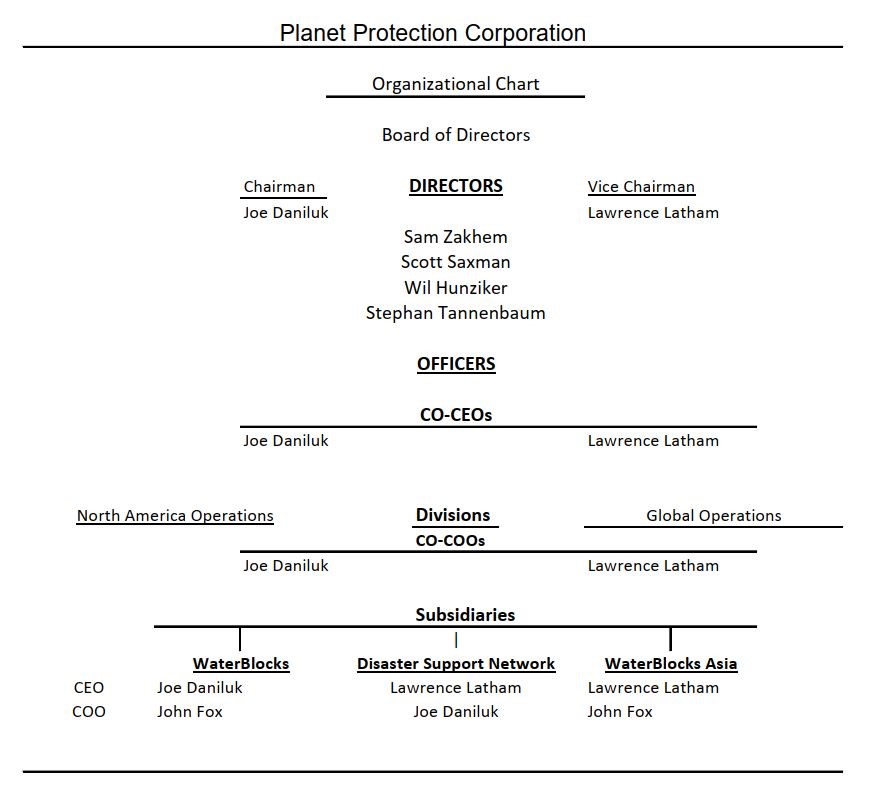 Stakeholder Details
For All Locking Line Barriers (LLB) Shareholders:
First and foremost, there is nothing necessary for you to do regarding the aforementioned events until after the transactions have been completed by Colonial Stock Transfer Company, our corporate registrar and stock transfer agent. Once your LLB shares are exchanged for PPC shares, a statement will be sent to each shareholder, requesting you to go online to the registrar's designated website and login to your account in order to verify that the correct number of your LLB shares have been exchanged for PPC shares as posted in your account.
Colonial Stock Transfer will be responsible for rectifying any discrepancies that may occur, and once verified, you are all done.
In Summary:
The Acquisition Transaction:
 PPC will acquire LLB dba Waterblocks in a 1:1 all-stock transaction, and LLB shall become a wholly owned subsidiary of PPC, for the purpose of: (i) expanding the business scope of LLB beyond "flood mitigation" to "planet protection," (ii) protecting LLB's intellectual property and branding investments to date, and (iii) benefiting LLB's existing shareholders.
This acquisition has been approved by the LLB shareholders and will bring all existing LLB stakeholders into the new PPC ownership structure. Further, because PPC's ownership structure is an exact duplicate of LLB's ownership structure, there will be no outstanding LLB shares upon completion of the transaction (other than those LLB shares wholly owned by PPC).
To be clear, PPC's acquisition of LLB does not include any buying, selling, or monetary exchange; PPC is not selling any of its shares/stock, and PPC is not purchasing or buying LLB shares from any shareholder.
Upon completion of the acquisition, you will own the exact same number of shares of PPC stock and the same percentage of ownership in PPC as you held in LLB on December 31, 2022, prior to the acquisition.
Should you have any questions and/or concerns, please let us know.
We welcome your thoughts and comments – please use: Contact Form
My Thanks and Warmest Regards to each of you for your participation and support!
Happy Holidays to All!!
Joe Daniluk, CEO