WELCOME!
.
The Problem:
How Do You Stop a Flood?
You Don't!  All you can do is divert the floodwaters and energy elsewhere.
.
Flooding is a growing concern for millions of people and municipalities nationwide. Flooding is affecting more and more Americans every year. And yet, we continue to rely on ancient and inadequate systems for managing, redirecting and stopping the onslaught of floodwaters.
.
So what can stand between a 
community
 and a 
flood
?
.
| | |
| --- | --- |
| Current Solutions: | A Barrier Sharing Network Solution: |
| | | | |
| --- | --- | --- | --- |
| Anything Handy | Jersey Barriers | Sand Bags | Rapidly Deployable WB Barriers |
| | | | |
| | | | |
.
WaterBlocks Multiuse Flood Control Barrier Systems!
.
A 3 Minute introduction with our CEO
.

Creating New Multiuse Flood Control Barrier Systems Through Superior Engineering & Design For Emergency Rapid Deployment!
Who Are We:
•
WaterBlocks™
is
a registered
TradeMark
and 
dba
 (alternate corporate identity) of
Locking Line Barriers Corporation
,
a
Colorado "
C" Corporation.
.
•
WaterBlocks™
 is in the business of providing Disaster Support products, services, and innovation to
Help Save Lives, Communities and Our Environment
.
.
•
WaterBlocks™
is the Exclusive 20 year Global Patent Licensee
for all Marketing and Distribution rights to the WaterBlocks products
and related services
.
.
•
WaterBlocks™
is proud to introduce our revolutionary
Globally Patented
(filed and in progress)
product line
and Support Services
setting
a new bar in large-scale
multiuse
disaster support
flood
control
related
protection,
along with
our new Digital Barrier Sharing Network
services
and support
technology and systems
.
.
•
There is nothing like it on the market today; As an Emergency Response,
Product and Services combination for a rapidly deployable
Disaster Support Solution.
.
What Are We Doing

Now

:
We are currently offering two different
SEC regulated Stock Offerings
.
1.
THIS SEC
Reg
-D Offering for large investments available only to Accredited Investors as explained below and only available here on this site.
.
2.
On StartEngine, Our Title III Regulation Jobs Act CF Offering for small
er
investments
and
anyone who would like to invest, but
who may
not wish to invest the required minimum of $10,000,
if needed,
please see our StartEngine Page where you can invest at just a $200.00 minimum. Just click the image below.
.

.
There is No Dilution from the sale of these Treasury Shares being sold / or to be converted in the future.
.
Join with our 800+ Investors and become a

Accredited Investor
Team Member today.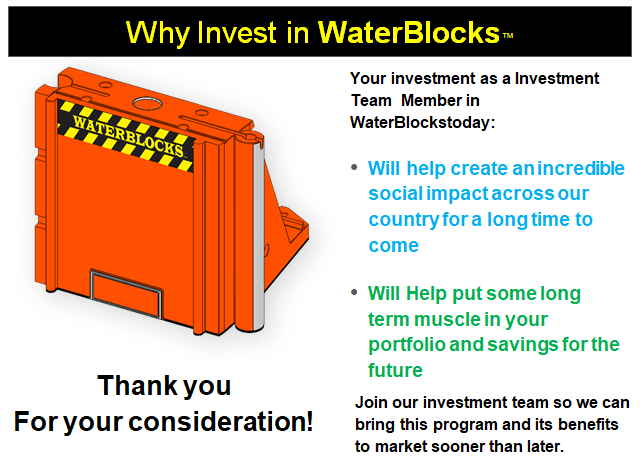 .
https://www.sec.gov/cgi-bin/browse-edgar?CIK=0001736664&owner=exclude&action=getcompany&Find=Search
.
Direct Link to our RegD Offering Docs.
www.waterblocks.net/Offering
.
Find Everything Else ABOUT US Below
.
Our Main Product with our Rapid Deployment Design:
.
| | | |
| --- | --- | --- |
| | | |
| MAIN UNIT | SHIPPING SET | DEPLOYED |
.
Our Main Product:
.
.

Support Test:

3,500 lbs. of Steel No Damage
.
When you NEED 8 FEET of Height Protection:
.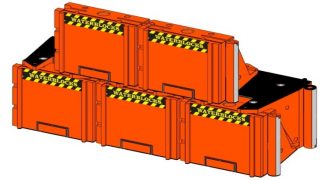 WaterBlocks can be DOUBLE STACKED …(like Legos)
.
Trailer Included (upon request):
.
.
Fact is – once it starts raining, it's already too late.  Communities need a faster, more reliable solution to this looming threat.  Most all flood control tools currently available in the US are heavy, not easily moveable or deployable and typically permanent once constructed.
.
WaterBlocks™ are steel-reinforced, interconnecting plastic units that link together to create a diversionary wall of protection. What makes WaterBlocks™ so special is their unique design, which allows them to be both rapidly-deployed and efficiently-assembled and removed.
.
Over the past three years we have had extensive discussions with municipalities and various governmental agencies reflecting a common theme professed by all: 'an additional source of flood barrier supply and support is needed'. Our communities' needs can't just rely on FEMA, NGO's and the occasional local vendor.
.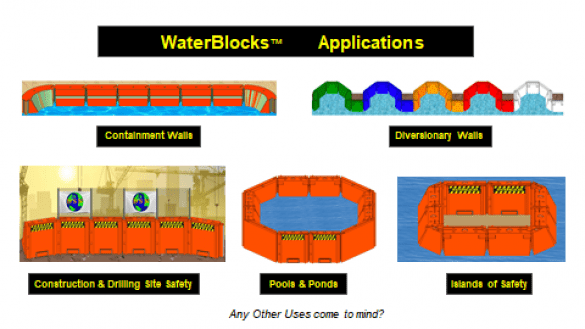 .
WaterBlocks™ have many useful applications including crowd – traffic safety and control, construction site protection, natural resource protection and conservation, and more.
.
There are, of course, a number of existing plastic barriers on the market – most being designed for traffic safety and control, their uses are limited, rendering them useless for flood control or liquid overflow management.
.
.
And no competitor has incorporated a nationwide barrier sharing system and solution with their products.
.
WaterBlocks™ Asset Management & Barrier Sharing Network
.
Flooding is a unique disaster in terms of how quickly it strikes – with little notice for preparation. Thousands of Americans across the country have felt the devastating effects of floods and the pain they cause.
.
Communities under the threat of floods are begging to be better prepared with adequate barrier protection. With our rigorous background in industrial manufacturing, construction and logistical operations, we've gone ahead and envisioned an innovative, forward-thinking solution – the Barrier Sharing Network (think Uber like).
.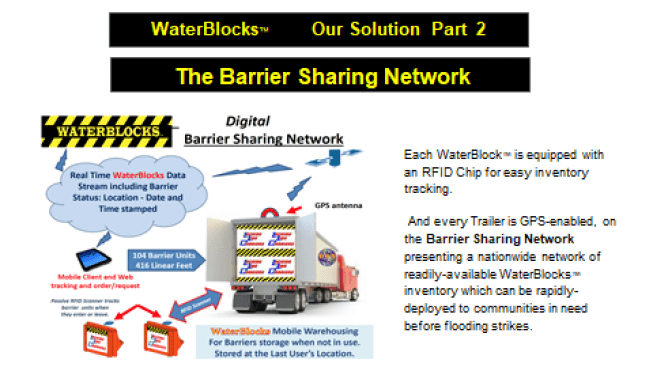 .
The Barrier Sharing Network is a digital system whereby WaterBlocks™ can be rapidly transported on short notice as a cost-effective response to pending flood threats – anywhere in the US or around the globe. Because when it comes to mitigating flood damage and destruction, as delivery of large quantities of barriers on short notice is the key.
.
•
We anticipate that our primary stage objectives
center
around
the sale of WaterBlocks
™ themselves will generate the revenue necessary to
support our continued future growth
.
.
•
The
establishment of the Barrier Sharing Network
offers WaterBlocks
a sustainable, long-term (20+ years) source of revenue and ever-expanding rental and licensing opportunities.
.
•
The Barrier Sharing Network is an intangible asset consisting of the software platform (not yet built)
– which may ultimately be patentable in its own right – and management thereof.
.
•
E
ach
WaterBlock
™ is
equipped with an RFID Chip for easy inventory tracking and every Trailer is GPS-enabled, the Barrier Sharing Network presents a nationwide network
of readily-available
WaterBlocks™ inventory that can be
digitally managed and
rapidly-deployed
to communities in need when flooding strikes.
.
We will seek to secure sponsorship from major corporations, governmental bodies, private foundations and non-profit organizations to underwrite part of the manufacturing and acquisition costs of large numbers of truckload inventory. We are a capital intensive company and will always be raising capital to expand our barrier inventory. Our inventory base will provide thousands of linear feet of WaterBlocks.™ Barriers that can be instantly assigned, transported and deployed to participating municipalities, counties and states in need of flood protection or any other WaterBlocks™ application.
.
Utilizing our new Barrier Sharing Network, a forward-thinking revolutionary solution, enables communities and emergency responders to have timely access to WaterBlocks™ solutions, on a cost-effective, as needed basis.
.
Flooding and other Disasters strike with little notice, but WaterBlocks™ empowers municipalities, governmental agencies, and NGO's and emergency responders to be better equipped with new 'on call' Tools and Services to protect lives, communities and our environment.
.
Invest in WaterBlocks™ dba Locking Line Barriers Corporation with confidence as we prepare to go to market with our revolutionary WaterBlocks™ product line and related services.  Funds from this raise will be used to support our efforts to; begin operations, recruit staff, create inventory, expand marketing, promotions, and product line sales at trade shows as well as promotional events  with municipalities across the country and globally, research and development, and general operating expenses.
.
[MIKE – we need to insure this Paragraph is in the PSOC somewhere]
.
Product Demand Analysis from our Market Survey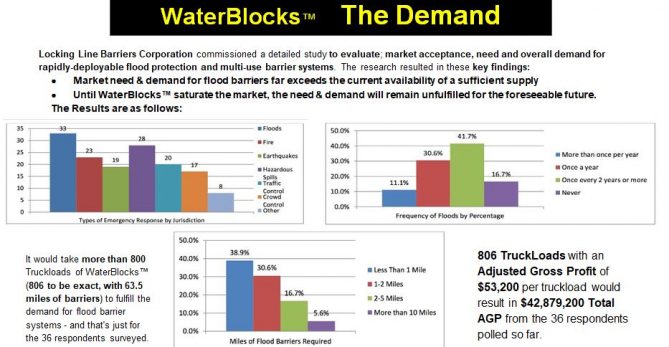 .
To examine the current market viability of WaterBlocks™, Locking Line Barriers commissioned a detailed study looking at the market acceptance, need and overall demand for rapidly-deployable flood protection and multi-use barrier systems.  Additional focus was spent on means of access including whether the assets are rented through a web-based asset and cost-sharing network rather than outright purchased per standard convention.
.
Since the WaterBlocks™ target market is the emergency authorities and responders of municipalities, government agencies and NGO's, research consisted of a nationwide sampling of 36 randomly-selected jurisdictions.
.
Our research resulted in these key findings:
•
Market need & demand for flood barriers far exceeds the current availability of a sufficient supply
•
Until WaterBlocks™ are brought to market, the need & demand will remain unfulfilled for the foreseeable future
It would take more than 800 Truckloads of WaterBlocks™  (806 to be exact, with 63.5 miles of barriers) to fulfill the demand for flood barrier systems – and that's just for the 36 respondents surveyed.  
.
At the currently-discounted MSRP cost of $130,000/truckload, LLB sales would be $104,780,000 /per Truckload for the 36 respondents polled so far. 800 Truckloads would cost a little less than $120M.
"For every $1 spent on Disaster Mitigation,
$7 are saved in Disaster Recovery Costs."
– The Denver Post snd (Multihazard Mitigation Council) (2017)
.
The Market & Industry
.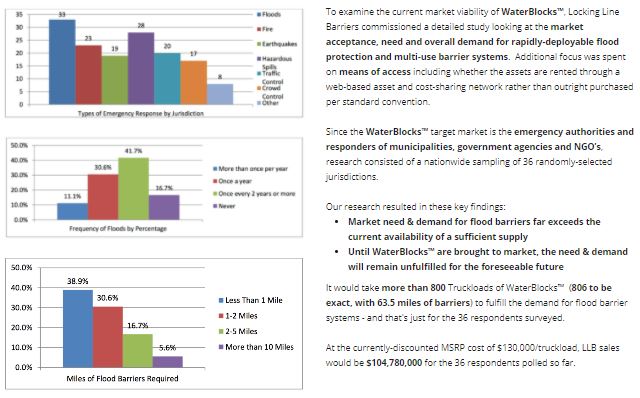 .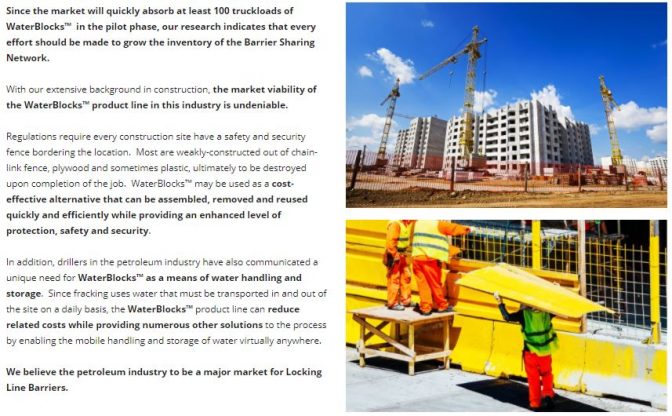 .
WaterBlocks™ Sponsorship & Branding Opportunities

.
Knowing the importance of branding when it comes to securing major sponsorships, is why Locking Line Barriers has built-in a way for sponsor corporations, organizations and agencies to be recognized for their support of the Barrier Sharing Network.  
.
LLB incentivizes sponsorship by offering sponsors the opportunity to brand WaterBlocks™ within the Barrier Sharing Network by permanently molding the brand's logo and messaging into the front-facing plastic wall of each unit they purchase or donate.
.
We intend to formulate a worldwide licensing program that enables WaterBlocks™ – or a variant thereof – to be sold and distributed overseas. In fact, we have already received licensing inquiries from Mexico and Holland, however our primary objectives at this time are product sales and the establishment of the Barrier Sharing Network (BSN) in the United States.
.
WaterBlocks initial sales efforts are focused on six key target markets:
1.
Product Sales to government agencies and municipalities
2.
Product Sales to major corporations in the Construction and Petroleum industries
3.
Distributorship Development and Expansion domestically and globally
4.
Sponsorship sales to major Corporate Social Responsibility (CSR) departments for BSN inventory expansion
5.
Crowdfunding Revenue Sharing Agreement Investments in BSN inventory expansion
6.
Revenue Sharing Agreement Investment Sales and Grants from Charitable 501c3 organizations for BSN inventory expansion based on the following: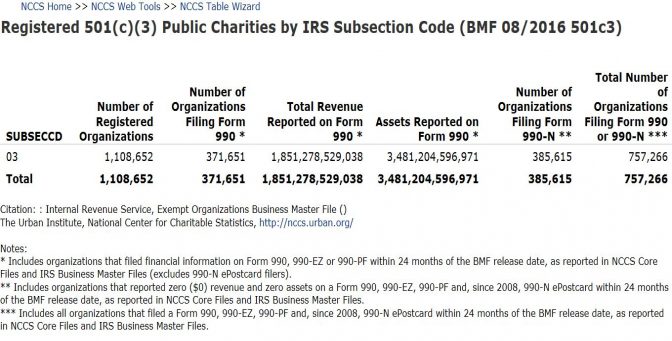 We estimate that $21 trillion is held by the more than 80,000 non-profit organizations that fall under 501c3 status in the US.  NOTE: this is our estimate of the potential participants from the global group as reported in the chart.  
.
With this in mind, we have also established an agreement with the Disaster Support Foundation (DSF), a 501c3 non-profit who will seek grants and donations to acquire and provide WaterBlocks™ for the Barrier Sharing Network for a share of the revenue.  This relationship provides potential charitable sponsors with the opportunity to leverage tax-deductible donations for positive social impact affecting countless communities nationwide.  
.
Our Revenue Forecast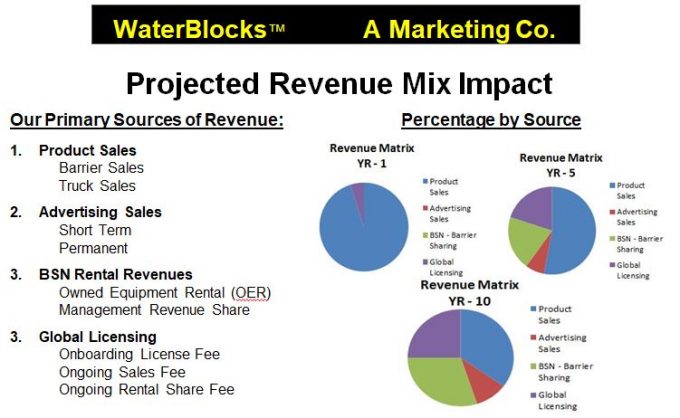 .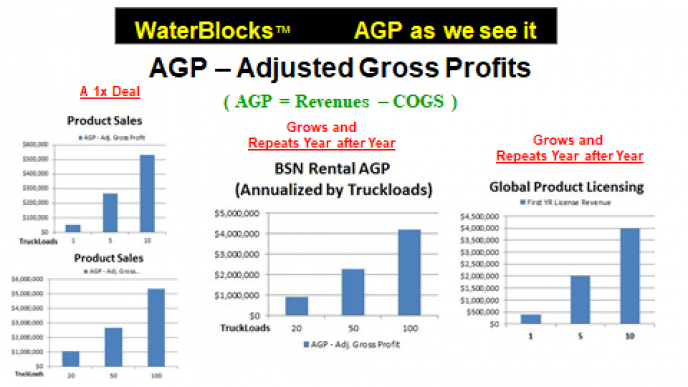 .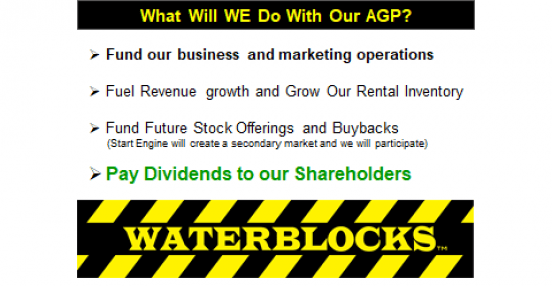 .
OTHER Relevant Financial Information
The Corporation has No Debt or pending legal actions.
Locking Line Barriers Corporation Valuation:  was determined by the Board of Directors in May 2018, in accordance with SEC Regulation, the full analysis and explanation can be found in this Offering documentation or in our SEC Filings.
WaterBlocks is currently a pre-revenue company, until such time as the Board of Directors determine we have sufficient capital and/or revenue to begin operations. Until such time, WaterBlocks is currently managed by Strategic Solutions Team, Inc. (SST), wholly owned by Joseph Daniluk. Management fees are deferred until operations begin and are anticipated to be financial resolved with some cash and stock. SST is providing additional interim financial support as need through its Private Credit Facility (PCF) as fully described in the Offering documents and SEC Filings under the same title. Please review the Offering documents.
Irregular Use of Proceeds; which may include but are not limited to PCF payments made by SST and depending on timing, such (re)payments may come from and become part of the use of proceeds.
Risks; This investment involves risk. You should not invest any funds in this offering unless you can afford to lose your entire investment. In making an investment decision, investors must rely on their own examination of the issuer and the terms of the offering, including the merits and risks involved. These securities have not been recommended or approved by any federal or state securities commission or regulatory authority. Furthermore, these authorities have not passed upon the accuracy or adequacy of this document. The U.S. Securities and Exchange Commission does not pass upon the merits of any securities offered or the terms of the offering, nor does it pass upon the accuracy or completeness of any offering document or literature. These securities are offered under an exemption from registration; however, the U.S. Securities and Exchange Commission has not made an independent determination that these securities are exempt from registration. Your stock purchase is complete and final upon the receipt of funds from you.
.
Our Master Plan Progress
Obtain the Intellectual Property License:
Execute the Exclusive Marketing, Distribution, and Branding Rights to the globally Patented WaterBlocks Products, and Manufacturing Joint Venture Agreement(s). Done!
.
Raise Capital:
Launch a $1m Crowd Funding Offering:

Done and progressing.
.
Launch a $5M SEC RegD Offering:
Done 9/1/20 and progressing.
We have our two investors on board 9/11/20
.
  Solicit VC's and Angel Investors individually:
Ongoing all the time.
.
  Partner with disaster support Charities for related grants and other participation:
Ongoing all the time.
.
Product Production Development:
Construct Tooling:
.
Our Initial Molds Are Nearing Completion!
Just How BIG Is 4'x4'x4'

.

Sometimes we even forget how large our Flood Barriers are and have been waiting patiently to build one.

.

These PICS provide a real life insight to what it takes to make our products.

.

.

Tool Building will always be an ongoing process.

.

The PICs reflect one type of mold, numerous other tools are required, to outfit each production plant.

.
Done, ongoing and progressing.
.
Produce Products:
Step 1: Produce the shell:
.
.
Step 2: Install Steel Components and Finish work:
.
.
Done, progressing, and ongoing.
AND ANNOUNCING
Production of our new:
CROWD CONTROL PRODUCT LINE
.
By simply making a few modifications to our Flood Control Barriers,
we were able to produce our new:
.
WaterBlocks Crowd Control Barriers
.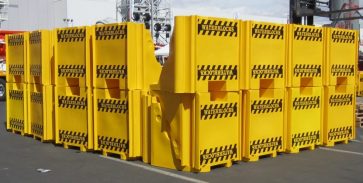 .
We have created a new Heavy Weight Crowd Control Barrier System,
To prevent crowds from throwing them around!
Done, progressing, and ongoing.
.
Our Leadership Team
.
Chairman

CEO

Director

Governmental Relations

Director

Global Business Development

Director

Patents & Licensing

Director

Finance

Engineering &

IT Manager

Resumes are included in our Offering Documents
.
Board Advisors to the Board of Directors:
Currently we have 30+ Board Advisors, they all have the education and experience in their fields to help guide the company as it proceeds forward. Their input and support has been instrumental in our progress. They include; CEO's and owners of businesses including, plastics and mold manufacturing, marketing and distribution, IT Technology companies and other numerous areas, and professions from law, accounting, and business development and management. They have been and are instrumental in our development and we appreciate their help and participation.
.
Our Marketing Momentum
Once every 3 years; North America's largest Manufacturing Trade Show, ConExpo, is held in Las Vegas, NV

We Publically Launched our Product Line as Booth Exhibitors, supported by an evening Hospitality suite at "Bally's Hotel. A side note: It took 22 individuals to man the event; believe it or not, all 22 were volunteer members of the WaterBlocks Investor Team.
And, WE Had Great Response!
Booth Participant Reactions to WaterBlocks:
.
Hospitality Suite Reactions:
ConExpo2020 Results:
Nationally:
Three Pilot Project Proposals under consideration:
  A:  Statewide 100 TruckLoads,   10,400 Barriers
B.  City   10-20 Truckload   1,400 to 2,800 Barriers
C.  Municipality Districts   10 Truckload   1,400 to 2,800 Barriers
      D.  Numerous Business Inquiries
Global Distribution Inquires From:
Canada  Indonesia   Australia  Ghana (pilot project proposal)   Dubai
.
◦
We have the Rights and the Technology,
◦
We have the
Capability,
◦
We have the
Management Team,
◦
We have the
Demand, and,
◦
We have the Marketing Momentum.
Now all we need is You!
We need you to join our Investor Team
To help us:
Save Lives, Communities and our Environment
.
Join with our 800+ Investors
and click on this link to reach our regulated Offering Docs and the REWARDS we have instore for YOU.
.