WaterBlocks™ is a registered TradeMark and dba (alternate corporate identity) of Locking Line Barriers Corporation.
WaterBlocks™ is a new concept in multi-use barriers. Their interlocking gap free design allows complete access control for construction sites, drilling sites, crowd control, flood barrier and other uses. The integrated design approach allows the use of fence posts to extend the height of the barriers and control for noise, viewing and security. Their modular roto-molded polyethylene construction allows for long life, quick and easy setup and teardown while still fully utilizing a 53′ semi-trailer containing 104 barriers (416 linear feet).
WaterBlocks™ rapidly deployable barriers allows flood waters to be re-directed away from critical infrastructure and housing and allowed to pass harmlessly around them to lower lying areas downstream.

They are exclusively distributed by Locking Line Barriers.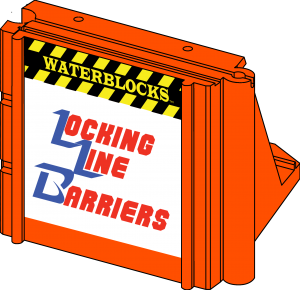 Our Dun & Bradstreet Number 081365759